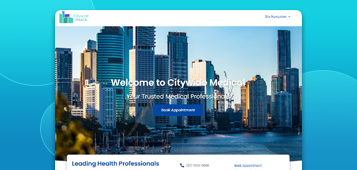 Simple, modern, flexible. This layout is perfect for General Practices with a community focus and puts the essential info first...
Visit Site
Can I make edits to the website myself?
Yes! We can provide a login to the back-end of the website so you can edit content or change things like opening hours as needed. Feel free to reach out if you need larger edits.
Can I add our online booking system to the website?
Yes! We can integrate all major online booking platforms as a button, widget, or form on the website.
Do I need to use one of the example layouts?
No, they can just be for ideas. Get in touch if you would like a totally custom website and we can tailor to your needs.
Do you work with WordPress / Drupal / Joomla / Other?
WordPress is our CMS of choice due to its flexibility, security, and ease of access. If you already have a website you're happy with that uses another service we can rebuild it in WordPress exactly as it is currently, this is also a great time to make any changes if required.
What if my website gets hacked?
Every Health IT website is equipped with security measures to keep out hackers, and robust backups in case anything does get affected.
Commercial backup system taking nightly backups.
Commercial firewall with real time protection, brute force attack (DDOS) prevention and country blocking.
Commercial malware scanning with reputation protection.
Optional Multi Factor Authentication.
If in the unfortunate event your site does get hacked, we can identify and remove the infection or roll back to a previous healthy backup. If you're still concerned, Health IT can also run a virus scan on your computer for extra peace of mind.
More information on managed hosting and web security: https://healthit.com.au/web/
How much does it cost to create a website?
Our web design costs are based on our regular technician rate per hour. Most basic websites can be drafted and published in 5-6 hours of billable time, but please get in touch for a more accurate estimate based on your needs.
Where are websites hosted?
Health IT offers managed website hosting on our own web server in Brisbane CBD for a monthly fee. Alternatively if you already have a web host we can publish the site to their server at no extra cost.
If you end up wanting to move to another host down the line we can happily move the site and ensure it looks and behaves the same way.
I already have a website, can I move it to Health IT?
Yes! If you have a login to the domain control panel and back-end files for the website we can easily move it across to Health IT's web server and have it look and behave the same way. Any sites moved to us will have their security strengthened to our standards, if needed.